Live Streaming Chelsea Vs Manchester City 2022
The spookiest month of the year is upon us. With the arrival of October comes a new array of TV shows and films — some of them horror-themed, some of them of the prestige kind, some of them simple guilty pleasures.
Here, we tell you what's new on streaming when it comes to komidi gambar and TV, what shows are returning for new seasons, and what movies you'll only be able to watch on the big screen — for now. If you want even more titles, take a look at our Coming Soon lists for September and August. And don'kaki langit forget our roundup of everything the entire fall movie season has in store for us.
Some of October's Most Anticipated New Shows

Anne Rice's Interview With the Vampire

(October 2), AMC and AMC+: The Anne Rice universe is getting the prestige TV treatment with the release of
Interview With the Vampire
this fall and
Mayfair Witches
in early 2023. Starring Jacob Anderson (Game of Thrones) as Louis de Pointe du Lac, the character Brad Pitt played in the 1994 movie, and Sam Reid as Lestat de Lioncourt, Tom Cruise's character, this new adaptation of Rice's tale features the author as an executive producer. Creator Rolin Jones (Perry Mason) has described the show as a gothic romance between the two main characters. And, unlike the movie, the show will openly approach queer sexuality and relationships.

Sherwood

(October 4), BritBox: File this under one of the many, many projects Lesley Manville is headlining this year alongside the movie
Mrs. Harris Goes to Paris, the PBS Masterpiece
Magpie Murders
— more on that in a bit — the new retelling of
Dangerous Liaisons
and the upcoming season of
The Crown. But first:
Sherwood. Inspired by real-life events, the six-penggalan first season of
Sherwood
tells the story of two murders in the industrial villages around the titular place. "Old wounds are reopened and the town is engulfed in tension and fear. Soon everyone is under suspicion, neighbors are turning on neighbors, and no one can be trusted — especially not the authorities," says the BritBox synopsis. David Morrissey and Joanne Froggatt round out the cast.

Alaska Daily

(October 6), ABC and Hulu: Tom McCarthy (Spotlight) created and executive produces this drama series spotlighting journalism and starring Hilary Swank as Eileen Fitzgerald. She's an award-winning investigative journalist who leaves New York and her high-profile career there to join a daily metro newspaper in Anchorage.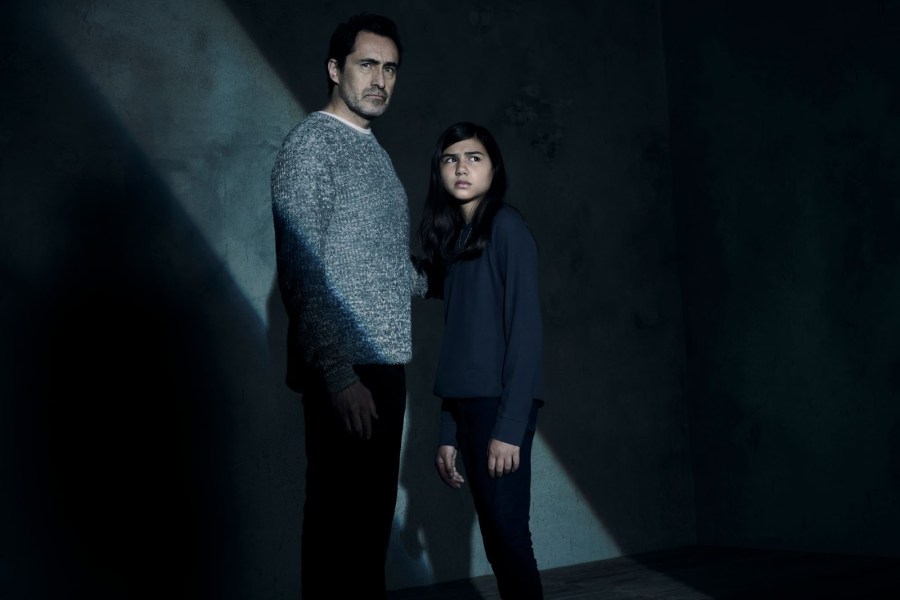 Let the Right One in

(October 9), Showtime: This 10-episode sandiwara bangsawan series is inspired by the original Swedish novel and 2008 film of the same name. It stars Mexican actor Demián Bichir as Mark and Madison Taylor Baez as his daughter Eleanor. Their lives were forever changed 10 years earlier when she was turned into a vampire. "Locked in at age 12, perhaps forever, Eleanor lives a closed-in life, able to go out only at night, while her father does his best to provide her with the human blood she needs to stay alive," reads the Showtime logline.

Shantaram

(October 14), Apple TV+:
Sons of Anarchy
star Charlie Hunnam returns to TV after several movie projects (Crimson Peak,
King Arthur: Legend of the Sword,
The Gentlemen) with this 12-adegan series set in 1980s Bombay. In
Shantaram,
he plays Lin Ford. He's a fugitive seeking refuge and anonymity in the Indian city. There, he'll fall for the mysterious Karla (Antonia Desplat) and be forced to choose between independence and the many complications love can entail sometimes.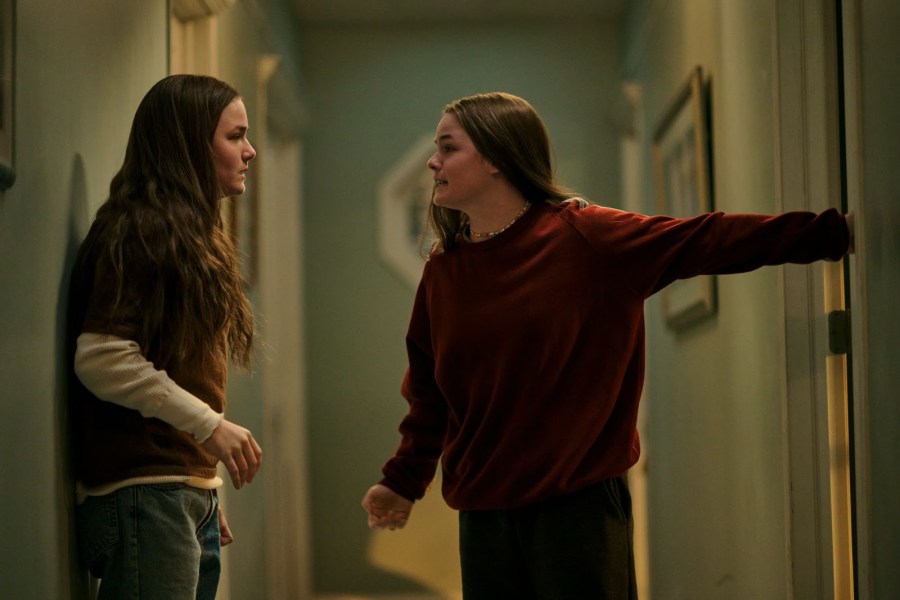 High School


(October 14), Amazon Freevee: Based on the memoir of the same name by Canadian indie pop musicians and identical twins Tegan and Sara,
High School
tells the story of how the sisters found their identity during the grunge-infused ´90s. Tegan and Sara Quin serve here as executive producers. The show is co-written by Clea DuVall (Happiest Season) and Laura Kittrell (Insecure), who also serve as co-showrunners. Sara and Tegan are played respectively in the show by the identical twins and newcomer actresses Seazynn and Railey Gilliland.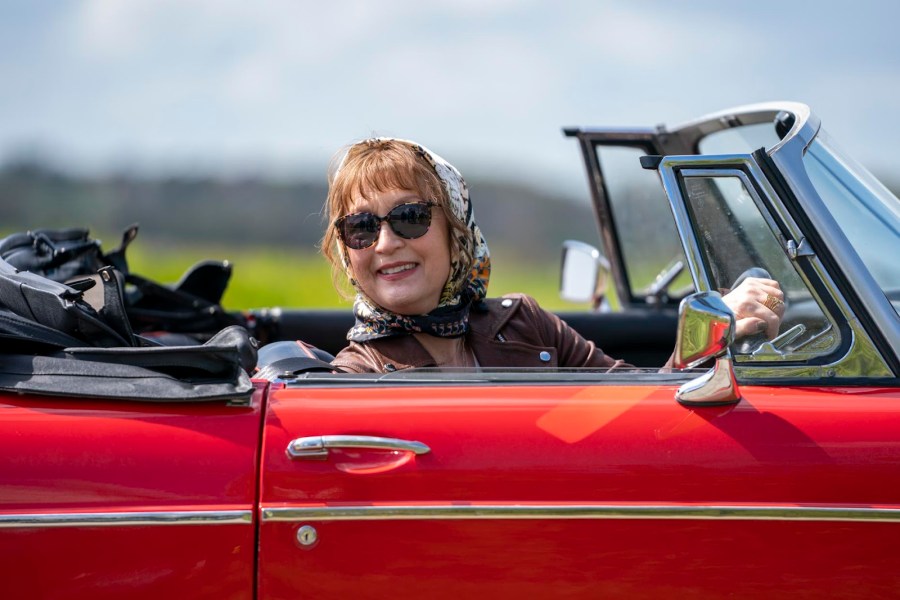 Magpie Murders


(October 16), PBS: Here comes the second title starring Lesley Manville this October. In
Magpie Murders, the ubiquitous Manville plays Susan Ryeland, a London literary agent who loves her work, her red vintage convertible car and her independence. She's working with one of the agency's most complicated — but also most popular — authors, Alan Conway (Conleth Hill), when he turns up dead. And what's worse, his last murder-mystery manuscript is missing its last chapter. What could be worse than a whodunnit without the ending?

From Scratch


(October 21), Netflix: Inspired by the memoir of the same name, this eight-episode series stars Zoe Saldaña as Amy, an American student spending time in Italy. There she meets and falls in love with the Sicilian chef Lino (Eugenio Mastrandrea) and they move to Los Angeles. "Their whirlwind romance faces many unforeseen challenges, including their very different cultural backgrounds; true to sungguhan life, it is also infused with lightheartedness and moments of humor that exist alongside the more serious ones. But when Lino is faced with unimaginable health challenges and the couple's future is threatened, the two families come together to create an extended family unlike any they could have imagined, proving that love crosses all borders," reads the Netflix synopsis.

Guillermo del Toro's Cabinet of Curiosities

(October 25), Netflix: This eight-episode anthology series makes the perfect Halloween release. Mexican filmmaker Guillermo del Toro, lover of all monstrous things, curates a collection of stories that push the boundaries of what's horror. Two of the tales are written by del Toro himself, who personally chose the other episodes' writers and directors.

The Walking Dead
, Season 11 Part 3 (October 2) AMC and AMC+: AMC's long-lasting zombie show is coming to an end for good. The eight-penggalan third part of season 11 is finally here after the second chunk of the season debuted last February. You don't really have to say goodbye to all
TWD
characters though, as AMC has already confirmed an untitled spinoff starring Norman Reedus as Daryl Dixon.

Derry Girls
, Season 3 (October 7) Netflix: "Change may finally be coming to Northern Ireland. But the high school hardships of Erin [Saoirse-Monica Jackson] and her friends show no signs of letting up," reads the Netflix logline for this teen comedy set in Northern Ireland in the 1990s and created by Lisa McGee.
Bridgerton's Nicola Coughlan, Louisa Harland and Jamie-Lee O'Donnell round out the cast of precocious teens.

Miss Scarlet and the Duke
, Season 2 (October 16), PBS: Murder mystery fans with a thing for Victorian-era London need not search further. Kate Phillips returns as Eliza Scarlet, an independent and intelligent woman who tries to find a profession in an unlikely place for women at the time: private investigation. Stuart Martin plays Scotland Yard Inspector and Eliza's longtime friend William "The Duke" Wellington. They both end up entangled in a series of mysteries, as this show is of the case-of-the-week variety, while still very much doing the whole "Will They or Won't They?" dance.

The White Runjung
, Season 2 (October 30), HBO Max: After dominating the last edition of the Emmys in the best limited series or miniseries category with 10 wins, here, somewhat paradoxically, comes the seven-fragmen second season of Mike White's satire
The White Lotus. Emmy Award-winning Jennifer Coolidge returns as fan favorite Tanya, but the new season takes the viewer into the lives of new guests and staff members of a White Lotus resort in Sicily. Set over a seven-day span, the show also stars F. Murray Abraham (Amadeus), Michael Imperioli (The Sopranos), Theo James (Sanditon) and Aubrey Plaza (Parks and Recreation).
Movies on Streaming
Here, we've included a selection of films that will debut exclusively on streaming, both on streaming and in theaters simultaneously, as well as movies that first premiered in theaters and are now available digitally.

Hellraiser

(October 7), Hulu: This remake of Clive Barker's 1987 horror film of the same name stars
Sense8
lead Jamie Clayton as Pinhead and Odessa A'zion as the young protagonist. "A young woman struggling with addiction comes into possession of an ancient puzzle box, unaware that its purpose is to summon the Cenobites, a group of sadistic supernatural beings from another dimension," reads the Hulu synopsis.

Catherine Called Birdie

(October 7), Prime Video:
Girls
creator and protagonist Lena Dunham directs this film set in 1290 and starring Bella Ramsay (Game of Thrones) as Birdy, the youngest offspring of Lord Rollo (Andrew Scott) and Lady Aislinn (Billie Piper). Her father wants to marry her off with the intention of getting money and land in exchange. But she manages to get rid of her suitors in the most ingenious ways.

Rosaline

(October 14), Hulu: Meet Romeo's ex. Kaitlyn Dever (Booksmart,
Unbelievable) plays Rosaline, Romeo's (Kyle Allen) former girlfriend before he went and met Juliet (Isabela Merced) — who also happens to be Rosaline's cousin. Rosaline will go to many lengths to get Romeo back and sabotage his relationship with Juliet. Directed by Karen Maine (Starstruck), this rom-com twists William Shakespeare's classic tale about the famous star-crossed lovers.

Halloween Ends

(October 14), theaters and Peacock: Those who want to know the fate of Jaime Lee Curtis' scream queen in the
Halloween
franchise can tune in to this thirteenth installment in the
Halloween
franchise. This is the final film in the so-called H40 trilogy that started with the 2018 film
Halloween
and continued with
Halloween Kills
in 2019.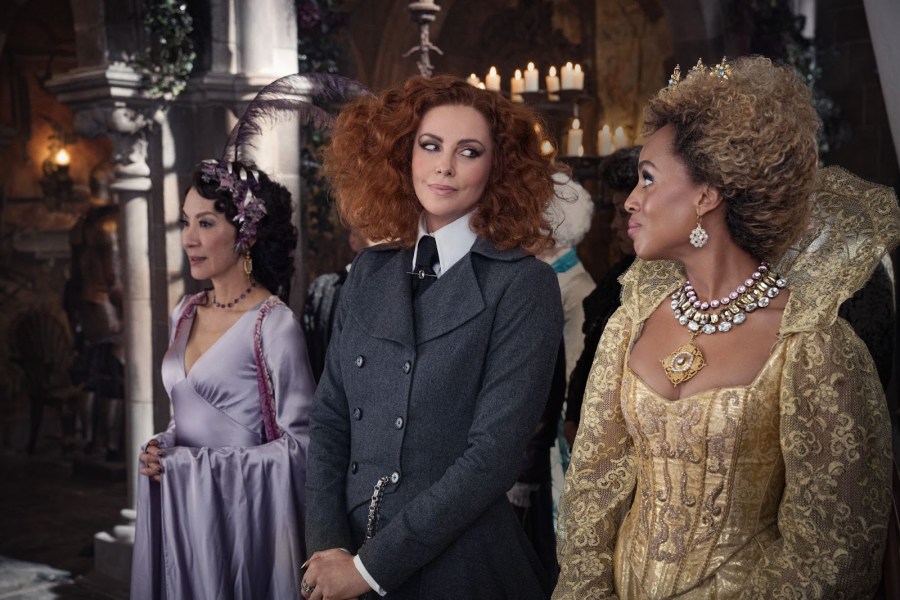 The School for Good and Evil

(October 19), Netflix: Paul Feig of
Bridesmaids
fame directs this komidi gambar adaptation of the fantasy series of young adult books by Soman Chainani. "In the village of Gavaldon, two misfits and best friends, Sophie (Sophia Anne Caruso) and Agatha (Sofia Wylie), share the unlikeliest of bonds. Sophie, a golden-haired seamstress, dreams of escaping her dreary life to become a princess, while Agatha, with her grim aesthetic and offbeat mother, has the makings of a real witch. One night under a blood red moon, a powerful force sweeps them away to the School for Good and Evil — where the true stories behind every great fairy tale begin," reads the Netflix synopsis. Charlize Theron plays Lady Lesso, in charge of the School for Evil, while Kerry Washington is Professor Dovey, who runs the School for Good. Michelle Yeoh and Laurence Fishburne round out the cast.

Raymond & Ray

(October 21), Apple TV+: Colombian filmmaker Rodrigo García (In Treatment) writes and directs this story about two half-brothers, Raymond (Ewan McGregor) and Ray (Ethan Hawke) who have lived in the shadow of a terrible father. But his funeral presents the siblings with a chance to reinvent themselves. The film also stars Sophie Okonedo (Slow Horses) and Spanish actress Maribel Verdú (Y tu mamá también).

The Good Nurse

(October 26) Netflix: Directed by the Danish filmmaker Tobias Lindholm (Another Round) and based on true events and the true crime book by Charles Graeber, this thriller stars Jessica Chastain and Eddie Redmayne. Chastain plays Amy, a nurse and single mother. She works in an ICU with fellow nurse Charlie (Redmayne) and they become friends. But a series of mysterious patient deaths triggers an investigation that points to Charlie as the main suspect. Amy will be forced to help uncover the truth.
And a Few Movies You'll Only Be Able to Watch in Theaters

TÁR




(October 7): Cate Blanchett stars here as Lydia Tár, the conductor of a major German orchestra. She's at the height of her career, in the midst of a book launch and preparing a live performance of Gustav Mahler's Fifth Symphony. "Adv lewat the ensuing weeks, her life begins to unravel in a singularly berbudaya way. The result is a searing examination of power, and its impact and durability in today's society," reads the Focus Features synopsis.

Amsterdam

(October 7): After a post-Silver Linings Playbook
and
American Hustle
break, David O. Russell returns as writer and director of this comedic drama set in the early 1930s. Studio 20th Century describes the film as "an original crime epic about three close friends who find themselves at the center of one of the most shocking secret plots in American history. A fascinating and richly intricate tale that brilliantly weaves historical fact with fiction for a timely, cinematic experience." Christian Bale, Margot Robbie and John David Washington star as the three friends at the center of this story.

Triangle of Sadness

(October 7): Swedish filmmaker Ruben Östlund (Force Majeure,
The Square) writes and directs this new social satire which won the Palme d'Or at Cannes Sinema Festival this year. "Social hierarchy is turned upside down, revealing the tawdry relationship between power and beauty. Celebrity model couple, Carl (Harris Dickinson) and Yaya (Charlbi Dean), are invited on a luxury cruise for the kejar-rich, helmed by an unhinged boat captain (Woody Harrelson). What first appeared instagrammable ends catastrophically, leaving the survivors stranded on a desert island and fighting for survival," reads the Neon synopsis of the film.

TILL

(October 14): Chinonye Chukwu (Clemency) directs this film based on true events, which tells the story of Emmett Till (Jalyn Hall) and his mother Mamie Till (Danielle Deadwyler). The 14-year-old Emmett was lynched in 1955 while visiting his cousins in Mississippi. Mamie would then embark on a quest for justice for her son.

Black Lelaki

(October 21): Dwayne Johnson makes his superhero debut in the DC Extended Universe (DCEU) as Black Adam. Catalan filmmaker Jaume Collet-Serra (Jungle Cruise) directs this story of an antihero with the powers of the ancient gods who was imprisoned but is now freed. He's ready to impart his justice on the beradab world.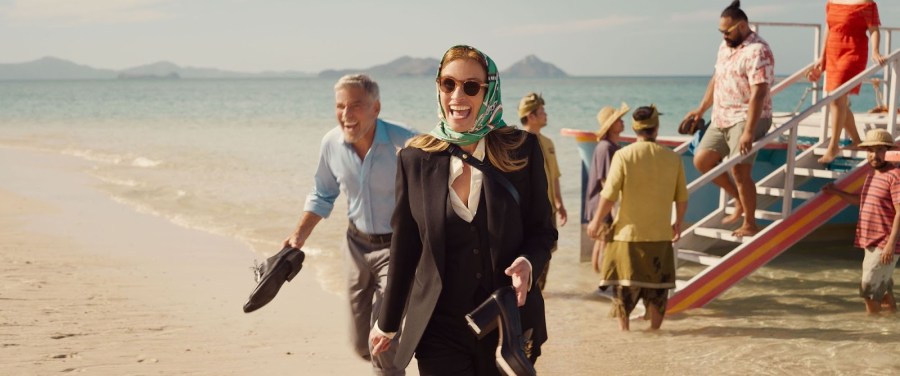 Ticket to Paradise

(October 21): George Clooney and Julia Roberts reunite on the big screen once again with this rom-com directed and co-written by Ol Parker (Mamma Mia! Here We Go Again). Divorced couple Georgia (Roberts) and David (Clooney) travel to Bali to attend their daughter Lily's (Kaitlyn Dever) wedding. They both can't agree on anything and pretty much hate each other's guts, but they can see eye to eye on one thing: Lily shouldn't marry so young and throw away everything else like they did. So they decide to partner up and try to trick her into dumping her fiancé.

The Banshees of Inisherin

(October 21): British-Irish filmmaker Martin McDonagh (In Bruges) writes and directs this quintessential Irish story set in 1923, during the Irish Civil War. "Set on a remote island off the west coast of Ireland,
The Banshees of Inisherin
follows lifelong friends Pádraic (Colin Farrell) and Colm (Brendan Gleeson), who find themselves at an impasse when Colm unexpectedly puts an end to their friendship. A stunned Pádraic, aided by his sister Siobhán (Kerry Condon) and troubled young islander Dominic (Barry Keoghan), endeavors to repair the relationship, refusing to take no for an answer. But Pádraic's repeated efforts only strengthen his former friend's resolve and when Colm delivers a desperate ultimatum, events swiftly escalate, with shocking consequences," reads the Searchlight Pictures synopsis.

Armageddon Time

(October 28): James Gray (Ad Astra) gets personal, writing and directing a coming-of-age story set during the presidential election of 1980 and in his native New York City. The star-studded cast includes Jeremy Strong, Jessica Chastain, Anthony Hopkins and Anne Hathaway.

Call Jane


(October 28):
Carol's Academy Award-nominated screenwriter Phyllis Nagy makes her feature directorial debut with this story inspired by true events and set in Chicago in 1968. It stars Elizabeth Banks as Joy, a suburban housewife who finds herself pregnant again but suffering from a life-threatening heart condition this time. Due to Illinois' laws at the time, she's forced to look for an alternative solution if she wants to terminate her pregnancy and save her life. That puts her in contact with an underground group of activist women who provide much-needed healthcare to pregnant people in need. Sigourney Weaver and Wumni Mosaku round out the cast of this movie, which makes for the perfect companion piece to one of our favorite film documentaries of the year,
The Janes
on HBO.
Source: https://www.ask.com/tv-movies/coming-soon-everything-streaming-theaters-october-2022?utm_content=params%3Ao%3D740004%26ad%3DdirN%26qo%3DserpIndex&ueid=1cd79646-a7ba-4adb-a2c2-3424d4a6c3b9